Wood Decking – Pros and Cons
The calendar may still say winter, but warmer weather will soon be to Chicago. When the temperatures rise, we want to spend more time outside and adding on a deck is a great way to expand your living space and extend your home into the outdoors.
If you plan to add on a deck this year, you have some decisions to make, but the first one is what material will you use to build your deck. The options are surprisingly numerous, from tropical hardwoods to polystyrene to composite and plastic. Each comes with its own set of pros and cons. For this article, however, we will concentrate on wood decking and the benefits and drawbacks of wood decks.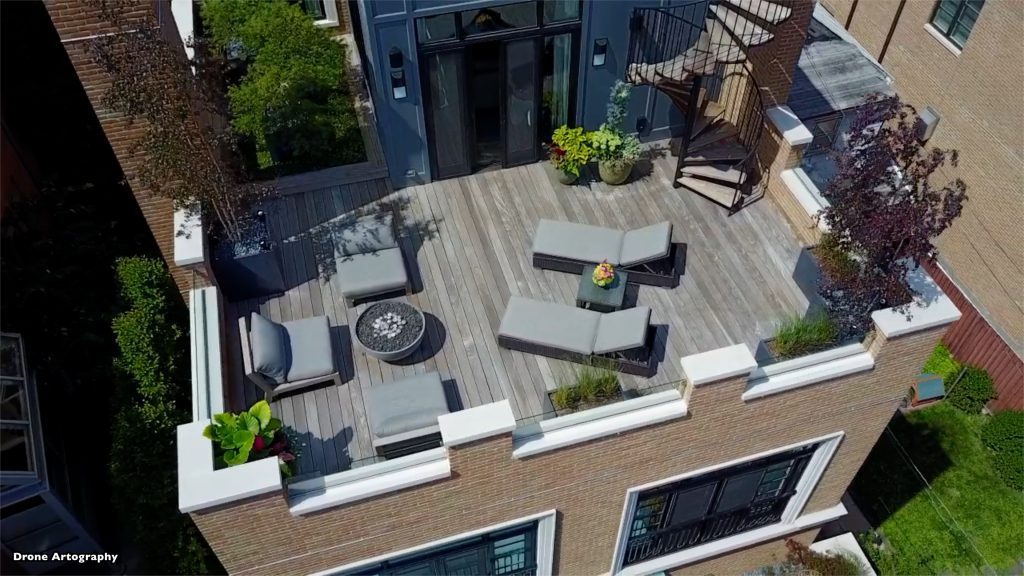 There are three kinds of wood decking; pressure-treated wood, cedar, and tropical hardwoods:
Pressure-treated wood has been soaked in a solution of chemical preservatives then placed in a pressurized compartment. In this compartment, the air is removed and chemical preservatives have been infused into the wood, which helps protect it from insect damage and rot.
Cedar wood relies on the natural rot resistant and insect resistant properties of the wood rather than subjecting it to chemical treatments. A naturally straight, stable, and dense wood, cedar makes an ideal decking material because it doesn't warp or twist.
Tropical hardwoods are exotic wood from the world's tropical regions. These woods, which include ipe, cumaru, Philippine mahogany, and others, are hard, durable, and stand up against insect damage and wood rot. They are also richly grained, giving your deck an unique look.
Cost
If cost is a factor, your most economical choice is pressure-treated lumber for your deck. The costs for pressure-treated wood will vary depending upon the grade of the wood. Cedar decking costs a bit more than pressure-treated wood, and the tropical hardwoods are the most expensive.
Appearance
Pressure-treated wood decking has been the most popular choice for such a long time that it has become the standard for decks. Although it seems somewhat crude and unfinished, it is what we are used to seeing. With the addition of composite decking; however,  homeowners are now demanding more aesthetically pleasing decking material. When freshly cut, cedar is a pleasing peach color but it ages to a silvery gray. The most common tropical wood, ipe, is a dark wood that is akin to mahogany.
Maintenance
Pressure-treated wood decks require less upkeep than cedar and ipe. Homeowners only need to clean their deck occasionally with a deck cleaner or a mild soap to remove stains and spots. Checking for loose nails or screws is the only other maintenance that a pressure-treated deck demands. Cedar decking, however, requires pressure washing and resealing once a year. Even then, cedar will fade. Tropical hardwoods are so hard that they won't take a stain, but homeowners should treat their decks with a clear, UV-blocking preservative every few years.
Durability and Longevity
Of the three, cedar decking is the least durable. A soft wood, cedar is susceptible to dings and dents. With proper maintenance, a cedar deck will last between 13 and 20 years. Because of the processing it has received, pressure-treated lumber decks are harder and tougher than cedar. They hold up better to heavy usage, wear and tear, and weather. A well-cared for pressure-treated deck can last from twenty to forty years. Ipe and other tropical hardwoods are naturally very dense and contain natural oils that inhibit drying. When kept in good condition and carefully maintained, it is possible for a tropical hardwood deck to last for as long as 75 years.
Before you decide which type of wood decking material is the best option for you, consider how much your budget is, the climate in your area, and how much time your want to spend on upkeep. Once you make these decisions, you are on your way to creating an outdoor space for relaxing and entertaining.